James Outram Fraser is a Cross Cultural Missionary who spent many years in the remote parts of China preaching the gospel. Despite his immense success he is not as famous as other missionaries. I hope that you can pick up some lessons from his life through this sharing.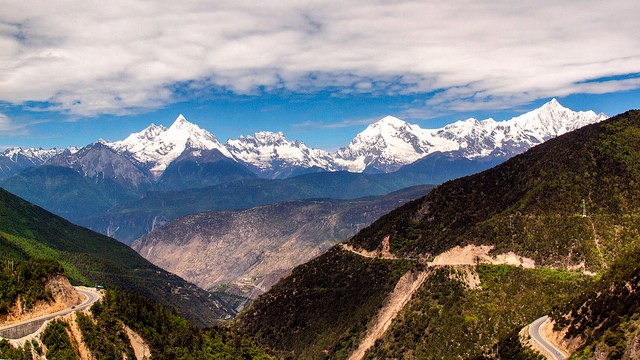 James Outram Fraser: A Cross Cultural Missionary in China
The results of James Outram Fraser's ministry in China amongst the Lisu minority people speak for themselves. "Going to China with CIM (China Inland Mission), he was stationed in the then remote province of Yunnan to work with the local Chinese, but Fraser was a keen climber and revelled in climbing through the mountains meeting and preaching to the Lisu people, particularly in the upper Salween River valley. The first 7 years of his ministry there were marked by work amongst the Lisu, strong prayer for them – and very little if any results to show for his labours and his intercessions. But by 1918, "sparked by family evangelism carried on by the people themselves, 600 believers had been baptised." (Wikipedia).
According to OMF International estimates, as of 2008, there were over a million Lisa Christian in Yunan and Burma. Yet when Fraser began his ministry amongst the Lisu there were no believers or Christian churches. Today, "Christianity is thriving in the Salween River valley, where the Lisu live nearly 70 years after the death of Fraser. Of the 18,000 Lisu who lived in Fugong in 1950, 3,400 professed faith in Christ. As of 2007, there are estimated to be 80–90 percent of the 70,000 making the same profession. In Yunnan it is estimated that there are 100,000–200,000 total Lisu Christians in the Lisu Church. More than 75,000 Lisu Bibles have been legally printed in China following the explosive growth. (Wikipedia)
Hidden Hero on the Mission Field
Yet in his book "The Second Act", Stuart M. Simpson writes: "The story of James Outram Fraser (1886-1938) is not as familiar as other famous British missionaries such as William Carey (the so-called 'Father of Modern Missions'), J. Hudson Taylor (founder of the China Inland Mission, now called OMF International), or David Livingstone (the great missionary explorer to Africa). Every year Urbana is one of the largest student missions conferences in the world. In their blog entitled, '21 Missionaries You Should Know', you will not find James Fraser mentioned." Simpson adds: "The mission movement I have been with for over twenty years, Youth With A Mission (YWAM), has published a range of books in a series entitled 'Christian Heroes: Then & Now'. This includes many missionaries but Fraser, once again, is not included. However, he is one of the most successful missionaries in modern times!"
My Missionary Discovery
I agree with Simpson. I am not sure why Fraser is such a hidden hero. I first encountered him after 10 years on the mission field, having worked in Taiwan from 1969 to 1979. I returned at that stage to England with my wife and then one child and was invited to work with OMF to help launch their "resurrected" China programme, as China began once more to open up to the outside world. As part of my UK-based duties I offered OMF books for sale at the churches I went to I quickly found myself promoting Fraser's "The Prayer Of Faith" as much as any other book! Through that book I had the privilege of making Fraser's acquaintance, at least in a literary way. Like many, up to that point Fraser had been hidden to me, and I don't believe I'd ever heard reference to his name before working with OMF.
What I discovered is that the lessons we can learn from Fraser's life are integral and vital to our own success as cross-cultural missionaries. Whether it be the classic path of a missionary (the call of God and the vision from God in Fraser's life then leading to a period in the valley of discouragement and seeming failure, which then gave way to an extraordinary period of revival by the Spirit of God). Or whether it be his walk with the Lord, his emphasis on prayer, his engagement cross culturally with the people with whom he worked, or a number of other factors – all these things are so critical to our instruction today not just as cross-cultural workers but as those who send cross-cultural workers from our churches or missionary sending agencies.
That last comment is important. The sending element in Fraser's life, or more accurately the supporting element from his mother and a devoted prayer group around her, was so critical. And all that before Messenger, Facebook, WeChat, WhatsApp and the rest of them had burst into our world, making communication so easy today and so hard then. Equally at a very critical point in Fraser's life, where he began seriously to ask if God was hearing his prayers, and indeed whether he was in the right place, a magazine with strong and clear Christian teaching turned his life and ministry around – a magazine sent from home by someone unknown who was instructed by the Holy Spirit to do so.
There are in my view also things we don't want to learn from Fraser! It is not for me to say whether he should have worked alone in the way he did for a critical period of his life, during a season when he faced almost depression and certainly discouragement, but I certainly would not recommend that loneliness – outside of the most clear and extraordinary leading of the Lord. Jesus sent His disciples out two by two. The norm must be that same approach by us.
Bringing The Hidden To Light
And so I want to do a series of blogs that will draw out these lessons, not as some kind of theoretical or academic exercise, but to remind myself that their place in Fraser's life was intimately connected with his success as a missionary and cross-cultural worker. And therefore they need to be present in my life also.
For recommended reading I would suggest "Mountain Rain", "Behind The Ranges", and if you can get it, the book I mentioned above "The Prayer Of Faith". I would also recommend Stuart's book mentioned above (The Second Act). Also especially the DVD in which he plays J.O. Fraser, published by OMF in at least 14 languages, called "Breakthrough". I have seen that DVD many times (I show it every time I lecture in English or Chinese on cross-cultural mission). There's always something new to learn.
It is my hope that the result of these blogs would be that we study carefully lessons that are all too hidden, for reasons I know not, from the life of J.O. Fraser with its remarkable results.
Come back to me at [email protected] and let me know which you think really matters to you; or do you think I've missed anything? Let's help each other succeed! There is plenty more material to help you on your way at www.fieldpartner.org
Ross Paterson
Taipei August 22, 2017
Recommended Reading
Behind The Ranges : Fraser of Lisuland S.W. China by Mrs. Howard Taylor
Mountain Rain by Eileen Fraser Crossman (Fraser's daughter)
The Prayer Of Faith by James O. Fraser & Mary Eleanor Allbutt
In the Arena, Isobel Kuhn. OMF Books (1995)